SHOWS FOR DAYS IN JUNE (June 3, 2007)
Thanks to the support of our rockin' fans and some of the best San Francisco drinking establishments, BAD REPUTATION has a storm of gigs lined up for June, including their debut at San Francisco's Blarney Stone Bar & Grill on Sat., June 23rd, as well as return to San Francisco favorites Blackthorn Tavern on Friday, June 15th, and Irelands 32 on Thursday, June 28th.
BLACKTHORN TAVERN MONTHLY GIG?!? (May 28, 2007)
We're hearing rumors that San Francisco's Blackthorn Tavern is working with BAD REPUTATION to schedule a monthly show running through the end of 2007. Check the shows page for the latest updates on this exciting development.
CANCELLED (due to Warrior's basketball game) START THE WEEKEND EARLY ON THURSDAY, MAY 3rd (May 1, 2007)
Looking to start the weekend a bit early? BAD REPUTATION has a special 8:00PM performance scheduled for Thursday, May 3rd at Irelands 32 in San Francisco, CA.
BACK TO THE BLACKTHORN FRIDAY APRIL 27 (April 25, 2007)
BAD REPUTATION is returning to the Blackthorn Tavern Friday, April 27th, armed with two full sets of Thin Lizzy favorites and deep cuts. The show will start at 10:00PM, and there is no cover charge.
COMING SOON TO AN ESTABLISHMENT NEAR YOU (April 10, 2007)
Many friends were made and songs were sung during BAD REPUTATION's inaugural appearance at the Blackthorn Tavern. The boys debut of SHA LA LA nearly brought the house down, and not many were left standing by the time the last harmony note of BOYS ARE BACK IN TOWN had sounded. Additional show pictures and mp3's are sure to be forthcoming...
LATE BREAKING NEW SHOW ADDED - THIS SATURDAY APRIL 7th (April 3, 2007)
San Francisco's Blackthorn Tavern is featuring BAD REPUTATION this Saturday night, starting at 10:00PM. A longtime favorite watering hole for a few of the BAD REP boyz, The Blackthorn is a great place to hang out, have a few, and of course enjoy Thin Lizzy classics as only BAD REPUTATION can play 'em.
WOW! (March 27, 2007)
Fresh off the heals of a very successful St Patrick's Day show, the Bad Rep boys are hard at work recovering from the tremendous party at Irelands 32, and putting the finishing touches on some more rockin' tunes. Check back often as new show announcements are just over the horizon, as well as the debut of even more Thin Lizzy deep cuts. Stay tuned...
GOING FOR THE GREEN (February 22, 2007)
San Francisco's Richmond District always throws a great St. Patrick's Day celebration, and this year will be even better with BAD REPUTATION bringing two sets of Thin Lizzy classics to Irelands 32. The band will be performing from 5-8PM on Saturday, March 17th, and is certain to be one of their hottest shows of the year.
TAKE TWO FOR IRELANDS 32 on FEB 2 (January 15, 2007)
BAD REPUTATION is excited to announce their triumphant return to Irelands 32 in San Francisco's Inner Richmond district 11:30PM Friday night, February 2nd, 2007. Barely three weeks after their inaugural performance, the boys have even more fan favorites and deep cuts in store. By the time the night is over, everyone is sure to have a little more Irish in 'em!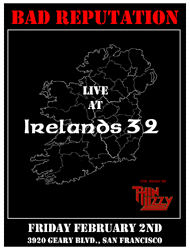 BAD REPUTATION ROCKS IRELANDS 32 (January 12, 2007)
BAD REPUTATION wasted no time ringing in the new year with a killer set of Thin Lizzy hits and deep cuts at Irelands 32 in San Francisco Thursday night. The strong crowd kicked off their weekend in proper rock and roll style tossing back pints and dancing along with crowd favorite "Boys are Back In Town" - an evening to be remembered by all who were there. The band looks forward to retuning with even more Thin Lizzy classics soon...
2007 TO BRING YOU A BAD REPUTATION (January 1, 2007)
Thin Lizzy holds a special place in rock and roll for critics and fans alike. Now, the San Francisco Bay Area will be treated to their dynamic songs and pioneering dual-guitar harmony attack as covered by BAD REPUTATION. This five-piece group will breakout in early 2007 with fan favorite rockers as well as lesser-known emeralds. Please check this website often for shows and news, and BAD REPUTATION looks forward to rocking out with you in 2007.